Freelance and Remote Jobs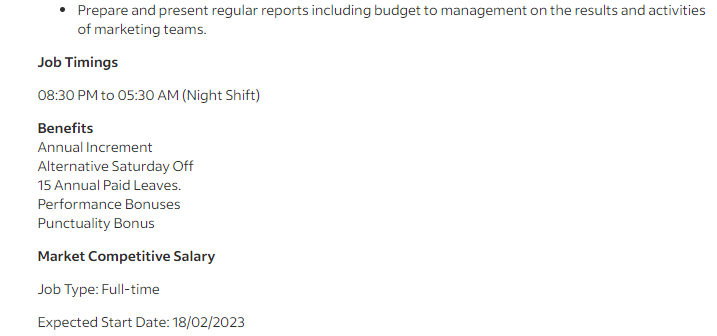 Google Ads Specialist – PPC Campaigns and ROI Optimization
We are seeking a talented and results-driven Google Ads Specialist to join our digital marketing team. As a Google Ads Specialist, you will be responsible for managing and optimizing our clients' PPC campaigns across various industries. If you have a proven track record of driving successful Google Ads campaigns, optimizing ROI, and staying ahead of the latest PPC trends, we want you on our team!
——————————————————————-
Google Facebook Ads Specialist – Remote
Islamabad
Rs 40,000 – Rs 60,000 a month
———————————————————
Small Graphic Design Job
Hi Liege,
Would be able to help me with a small job?
I have a textile label, logo in the front and some writing in the back.
I got the pdf label ready with the logo. I just need help with adding the text to the back. It is 41 labels in total. I got the text, so it is just for you to copy and paste the text on 41 different labels.
Would you be able to help me? When would you be able to help me? How much would you charge for this job?
Many thanks,
Gyri
Less than 30 hrs/weekHourly
< 1 monthDuration
IntermediateExperience Level
Project Type: One-time project
Skills and Expertise
Social Media Design Video Editing Poster Design Flyer Design Invitation Design Ebook Design Adobe Illustrator Canva Graphic Design Email & Newsletter Business Card Adobe InDesign Print Design Logo Design Facebook Ads Manager
Apply Here : https://www.upwork.com/jobs/~01a653732317a3e1aa
——————————————————————-
Add new pages in my Angular website
Need to add some pages in my website.
It was built with Angular and it would be great if you can migrate to the latest version of Angular as well.
The design has been completed by Adobe XD format.
Need to start immediately and finish in few days.
If this front-end job goes well, you will take back-end changes as well if you want.
$200.00Fixed-price
IntermediateI am looking for a mix of experience and value
Project Type: One-time project
Skills and Expertise
Front-End Development Skills :Angular AngularJS
Other :HTML CSS HTML5 Web Design WordPress JavaScript
Apply here : https://www.upwork.com/jobs/~01319690d544335904