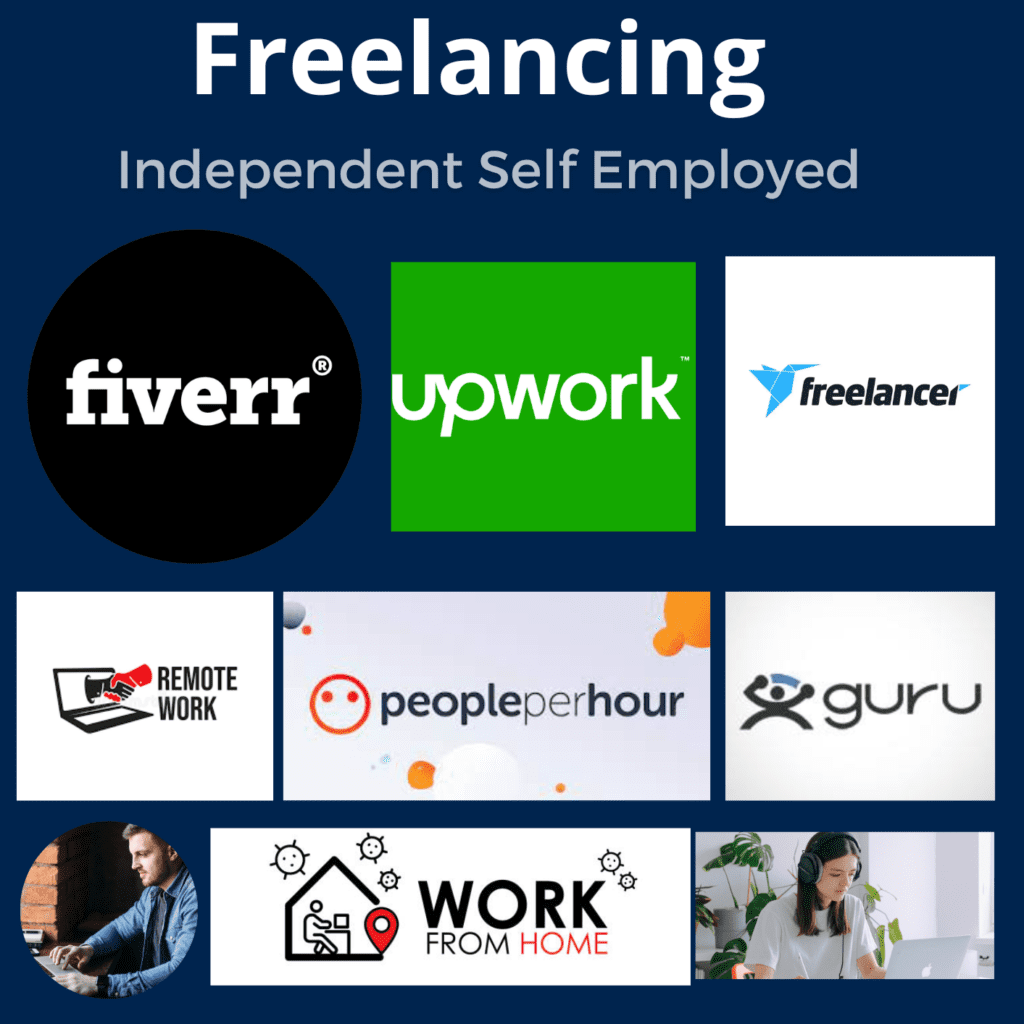 What is Freelancing?
Freelancing is a type of work arrangement where an individual offers their services to clients on a project or contract basis, rather than working as a full-time employee for a single employer. Freelancers typically work independently and have the flexibility to choose their clients, projects, and schedule. They may work from home or from a shared workspace and may offer a variety of services, including writing, graphic design, programming, web development, consulting, and more. Freelancing allows individuals to use their skills and expertise to earn an income while enjoying the freedom and autonomy that comes with being self-employed.
Types of Freelancing
Writing and Content Creation: Freelance writers and content creators can offer services such as copywriting, ghostwriting, blog writing, and more.
Graphic Design: Freelance graphic designers can offer services such as logo design, brand identity, packaging design, and more.
Web Development: Freelance web developers can offer services such as website design and development, e-commerce development, and more.
Programming: Freelance programmers can offer services such as software development, app development, and more.
Digital Marketing: Freelance digital marketers can offer services such as search engine optimization (SEO), social media marketing, email marketing, and more.
Consulting: Freelance consultants can offer services in a variety of areas, such as business strategy, financial planning, and more.
Photography and Video Production: Freelance photographers and videographers can offer services such as event photography, commercial photography, and more.
How to Start Freelancing
Identify your skills and expertise: Determine what you can offer to clients and what services you can provide. Think about your experience, education, and any relevant certifications you may have.
Decide on your niche: Consider specializing in a specific area of freelancing, such as web design or writing, to set yourself apart from other freelancers and make it easier to market your services.
Build your portfolio: Create a portfolio of your work to showcase your skills and experience to potential clients. This can include samples of writing, designs, and other projects you have worked on in the past.
Establish your brand: Create a brand that reflects your skills and personality. This can include a logo, website, and social media profiles.
Network and market your services: Network with others in your field and reach out to potential clients to market your services. Utilize online platforms like LinkedIn, Facebook, and other social media to connect with people and find new clients.
Set your rates: Determine what you will charge for your services, taking into consideration the market rate for your area and the value you bring to the table.
Stay organized: Keep track of your finances, invoices, and other business-related tasks to stay organized and ensure the success of your freelancing business.
Samples Proposal & Gigs
Frequent Ask Questions ( FAQ's)
Is it legal to prepare the academic work on behalf of the Buyer?
To prepare academic works on behalf of Buyers is not legal and prohibited.
An order will be automatically marked as complete after how many days?
Order will be marked as completed automatically after 3 days.
Which portfolio links are allowed to share on Fiverr (GIG/Profile Description)?
FIVERR Approved URLs List
ammyy.com
blogspot.com
flickr.com
mixcloud.com
reverbnation.com
soundcloud.com
spotify.com
teamviewer.com
tumblr.com
vimeo.com
wetransfer.com
wikipedia.org
youtube.com
How to change the username on Fiverr?
Username cannot be changed on fiver, Username is a unique identity, If you want to use another username then you will need to close your account and create a new one, But make sure the account must be closed then you will be able to use the same email address for another account.
What is the recommended gig image/thumbnail dimensions?
Recommended image size
1280 x 769 pixels, with a minimum of 712 x 430 and a maximum of 4000 x 2416 px (at 72 DPI)
How many gigs a new buyer can create?
A new buyer can create up to 7 gigs under new account.