Nishat Mills Hiring: Graphic Designer (2D Animation,Illustration) in Lahore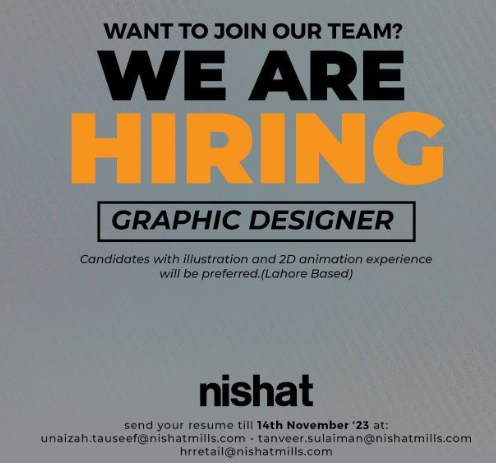 Nishat Mills seeks Graphic Designer (2D Animation, Illustration) in Lahore
Nishat Mills presents an exciting opportunity for Graphic Designers skilled in 2D animation and illustration to join our dynamic team in Lahore, Punjab. As we continue to innovate and elevate our brand presence, we are on the lookout for creative minds who can bring ideas to life through captivating visual storytelling.
The ideal candidate should have a strong background in graphic design, with a focus on 2D animation and illustration techniques. If you are passionate about creating visually stunning and engaging content, we invite you to be part of our collaborative work environment.
How to Apply
To apply, please submit your resume to tanveer.sulaiman@nishatmills.com and unaizah.tauseef@nishatmills.com by November 14, 2023. This is your chance to contribute to the success of a renowned organization, showcase your artistic talents, and grow your career in the vibrant world of textile and fashion.
Join Nishat Mills and be at the forefront of creativity and innovation. Your designs could shape the visual identity of one of Pakistan's leading textile companies. Don't miss out on this exciting opportunity – send in your application today!"